Ceiling Cleaning and Open Structure Cleaning Services in Mobile, AL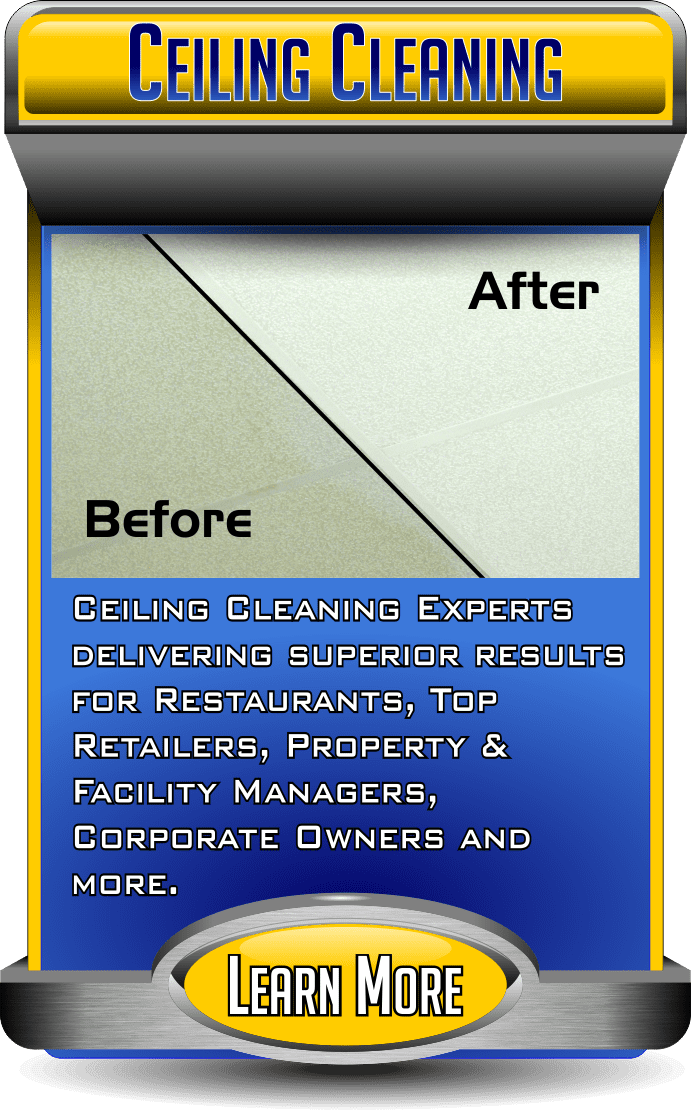 Our Heads Up Cleaning Team will help you solve your dirty Ceiling problems with our Acoustical Ceiling Cleaning and Open Structure Cleaning Programs.
We combine our Ceiling Cleaning and Lighting Services to Restore and Maintain the Largest Reflective Surface in your facility Effecting Light Quality, Overall Appearance, and Cleanliness of your Indoor Environment.
Your Acoustical Ceiling and Lighting System makes up the largest Reflective Surface Area in your facility and can greatly impact your bottom line and the cleanliness of your facility.  
We combine our Specialty Cleaning Services to deliver more for less for our customers, as well as improving your facility appearance and more importantly Reducing Operational Expense of Contracting, Coordinating, and Dealing with Several Vendors.
 Ceiling Cleaning Before and After
 Ceiling Cleaning Before and After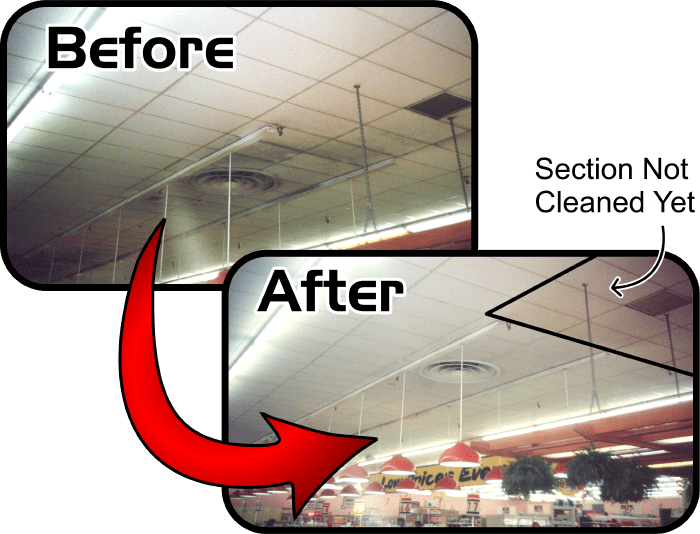 Licensed, Trained and Certified in Acoustical Ceiling Restoration and Open Structure Cleaning.


Heads Up Cleaning Can Handle It All!
We Clean Grease, Grime, Dirt, and Dust off your Acoustical Ceilings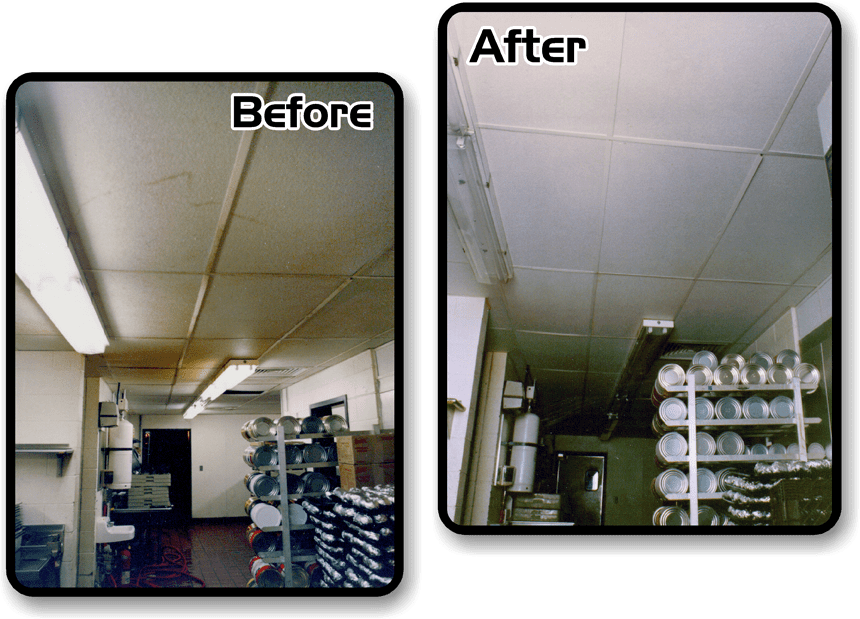 We clean Grease and Grime off your Acoustical Ceilings assuring you meet your facility maintenance standards and pass inspections.
Kitchen and deli acoustic ceilings and open structures require a more intense cleaning method due to cooking oils being heated to the point they become a fume and rise with the air. Once they come into contact with a cooler surface they accumulate and cool. With repeated deposition of layers a visible buildup forms requiring the right solution for removal.
These organic substances become a food source for microbial growth.  Bacteria and mold spore exist everywhere at all times without exception. Combining moisture from condensation and an organic food source creates an ideal environment for their growth.
Removal of the food source prevents growth and reduces contamination risk in your preparation areas.
How clean should the ceilings, walls and lights be in your kitchen or food service?
What do you want customers to think about the cleanliness of your facility?
Do your dining and food preparation areas match the reputation you have for good food and a clean friendly place to eat or dine?
Cleanliness also effects employee attitudes. Quality of the reflective surfaces in work and prep areas influences safety and well being.  Your facility over time becomes dirty, greasy and unsightly, losing valuable lighting and light quality for your employees to see and do their work. If dirty enough you won't pass your corporate inspection or even worse Board of Health Inspection.
Isn't it time to get your ceilings, walls and lights on a regular maintenance program? If so take advantage of our National Ceiling Maintenance Program .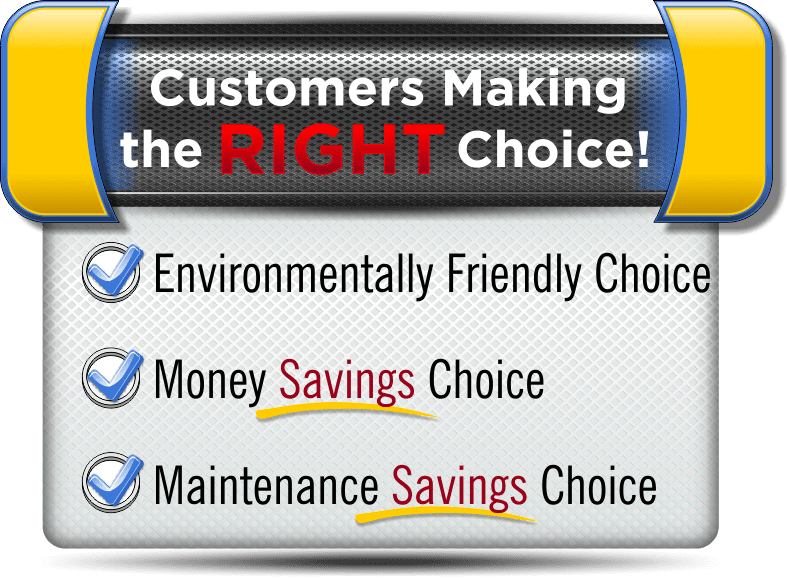 Save up to 75% over the cost of replacing tiles, with no mess and interruption to your business. Painting is messy, damages the ceiling systems and cost twice as much, as well as destroying the acoustical value and can alter the fire rating.
ACOUSTICAL CEILING TILE
RECYCLING-IN-PLACE PROGRAM

WE GET THE BEST RESULTS BY HAVING THE BEST CEILING CLEANER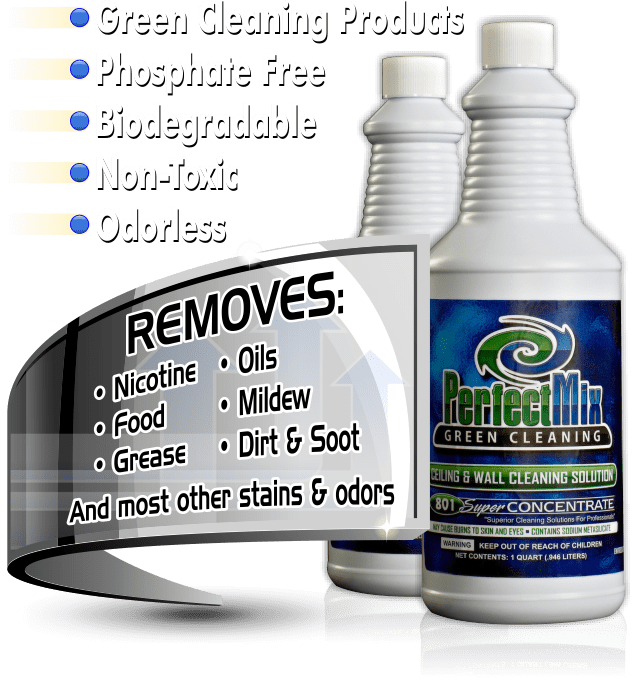 Our Acoustical Ceiling Cleaning Process
We can clean most any ceiling or wall surface including traditional fissured ceiling tile, glacier, tectum, vinyl tile, painted plaster and drywall, popcorn, wallpaper and brick. 
We use our Exclusive Perfect Mix 801 Ceiling & Wall Cleaning Solution applied with our exclusive spraying system and equipment, the Spray Station 10.  All work is done in place.  The first step in our cleaning process is to carefully cover all furniture, tables, product, etc. with plastic.  Your ceiling is then prepped by removing all the loose buildup of dust and debris on the ceiling and around the diffusers.
Your ceiling is then sprayed with our Exclusive Perfect Mix 801 Ceiling & Wall Cleaning Solution.  The solution begins to work immediately by breaking down foreign substances on your tile such as nicotine, carbon, grease, cooking oils etc.  All nonporous surfaces are wiped clean and then polished to make grids and diffusers shine.  On Porous ceiling tile the solution will suspended dirt, grease and grime off the tile while activated cleaning agents dissolve foreign substances attached to the tile.  All of this is done with your ceiling in place.

The Benefits of Ceiling Cleaning
1. Improves Appearance
Light reflecting properties are restored to the tile resulting in brightening of the entire room.
2. Saves Money
Ceiling can be cleaned many times for 1/3 the cost of painting and less than 1/5 the cost of replacement.
3. No Business Interruption
Cleaning can be done after hours with no interruption of business. A 2000 sq. ft. ceiling can be cleaned in a little as a few hours, where as it would take 3 working days to replace. Also, no lingering odor or mess left behind as with painting.
4. Improves Acoustical Value
Cleaning actually improves the acoustical value of dirty tiles by removing dirt from the pores. Painting destroys the acoustical value by sealing the porous surface of the tile.
5. Improves Fire Rating
Painting can nullify special fire ratings on commercial ceiling tiles. Instead of retarding the spread of flames, paint can actually spread them.
6. Clean and Deodorizes
Odors and bacteria trapped in dirty tiles are neutralized by our cleaning products and methods.
7. Less Time Consuming
It's less time taking than painting or replacement. Time is Money!
8. Energy Savings
Not only are dirty ceilings unsightly and unsanitary, they can reduce lighting efficiency by over 20-40%. Instead of reflecting light, dirty tiles absorb it, thus requiring more lighting just to maintain the designed level. More energy is required not only for the additional lighting but to offset the heat generated by these lights. Cleaning will restore the ceiling's original reflecting properties thereby reducing the energy demand.
SAVE THE ENVIRONMENT, ENERGY AND THE EARTH.

Our Attention to Details is what keeps our Customers Coming Back!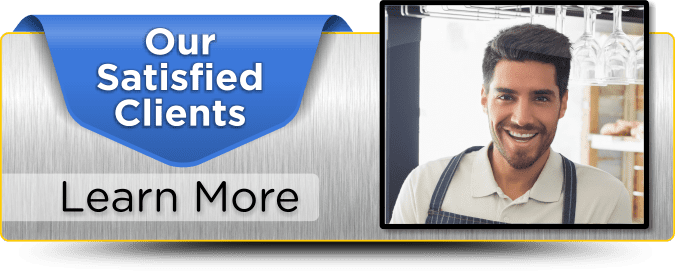 Our attention to detail is what keeps our customers coming back for repeat business, as well as referring our company to business associates, friends, and family. Our Dedicated Staff strives to serve you with the finest customer service available.  Our people are highly skilled, thoroughly experienced and exceedingly trained to handle all of the variables in our industry.
Since experience counts, you can trust that we "can" and "will" get the job done right the first time.  We strive to impress you, not just meet your expectations.  We take a lot of pride in the fact that quality service, craftsmanship and value are the cornerstones of our company.

View Our Services to Learn More